The Congressional Art Competition

Each spring, the United States House of Representatives sponsors a nation-wide high school art challenge and it allows us to highlight local talent in New Jersey's First Congressional District.
The contest is open to all high school students and our South Jersey winner will have their artwork
displayed in the U.S. Capitol for a year and
be invited to a reception in Washington, DC.  
 
This year's deadline for submissions is Friday, April 29, 2022
---
Sections Below:
---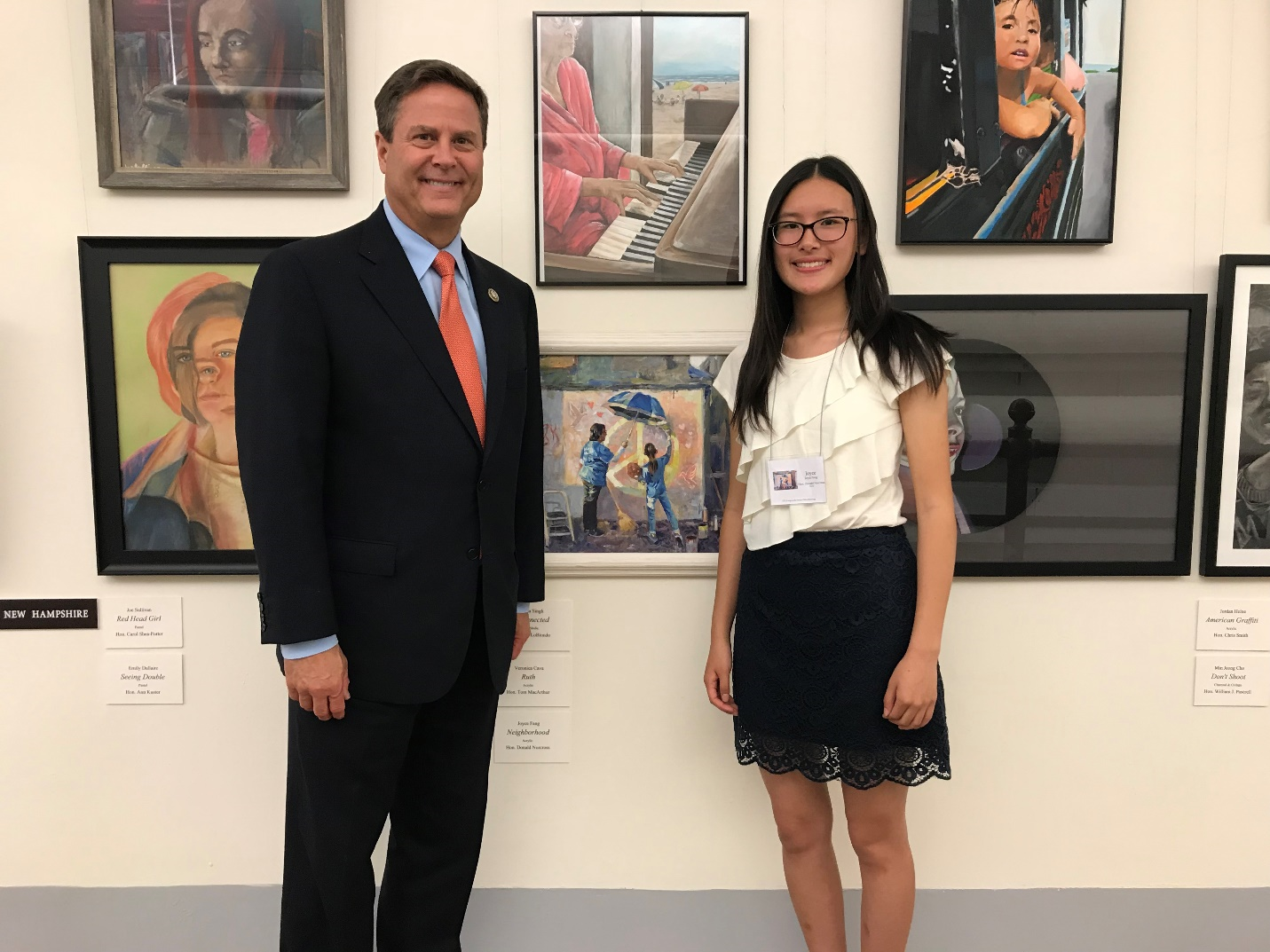 In 2021, winner Amanda Yan of Cherry Hill submitted a charcoal self-portrait titled "Quarantine."
In 2020, winner Katherine Li of Cherry Hill submitted a painting titled "The Family's Honor."
In 2019, winner Chelsea Yang of Cherry Hill submitted a painting titled "A Meaningful Visit."
In 2018, winner Joyce Fang of Voorhees submitted a painting titled "Neighborhood."
In 2017, winner Hannah Jin of Cherry Hill Township submitted a painting titled "The Tale of the Yellow Ribbon." 
In 2016, winner Angelina Le of Voorhees submitted a painting titled "The Price of Freedom."
---
About the Art
Artwork must be two-dimensional.
Sturdy frames (wood or metal) are required.
Two sturdy eye hooks must be attached at the top right and left sides of the back of the frame for hanging to prevent the work from leaning forward or hanging unevenly.
Each framed piece of artwork can be no larger than 26 inches high, 26 inches wide, and 4 inches deep.
If your artwork is selected as the winning piece, it must arrive in Washington, DC, framed.

Even when framed, it must still measure no larger than the above maximum dimensions.
No framed piece should weigh more than 15 pounds.

Accepted mediums for the two-dimensional artwork are as follows:

Paintings: oil, acrylics, watercolor, etc
Drawings: colored pencil, pencil, ink, marker, pastels, charcoal

It is recommended that charcoal and pastel drawings be fixed

Collages: must be two dimensional
Prints: lithographs, silkscreen, block prints
Mixed Media: use of more than two mediums such as pencil, ink, watercolor, etc
Computer-generated art
Photographs

Each entry must be original in concept, design, and execution and may not violate U.S. copyright laws.

Any entry that has been copied from an existing photo or image (including a painting, graphic, or advertisement) that was created by someone other than the student is a violation of the competition rules and will not be accepted.
For more information on copyright laws, please visit the Scholastic website.
Submission Information
The deadline for submission is Friday, April 29, 2022 by close of business. 
All art work should be dropped off to our District Office with the Student Release Form.

Attn. Art Competition Coordinator, Ginamarie Espinoza
10 Melrose Avenue
Suite 210
Cherry Hill, NJ 08003

Artwork may be dropped off Tuesdays and Thursdays between 9 AM to 5 PM.

If you have any questions, please call 856-427-7000 and ask for Ginamarie Espinoza.
---
Please fill out the student release form below - or download a fillable form at this link - and send it to our office, along with your submission.