After Being Disallowed to Visit Children in South Jersey, Norcross Helps Introduce Legislation to Allow Immediate Visits to Separated Children
The 'Restoring Oversight for Members of Congress Act' Will Remove Two-Week Waiting Period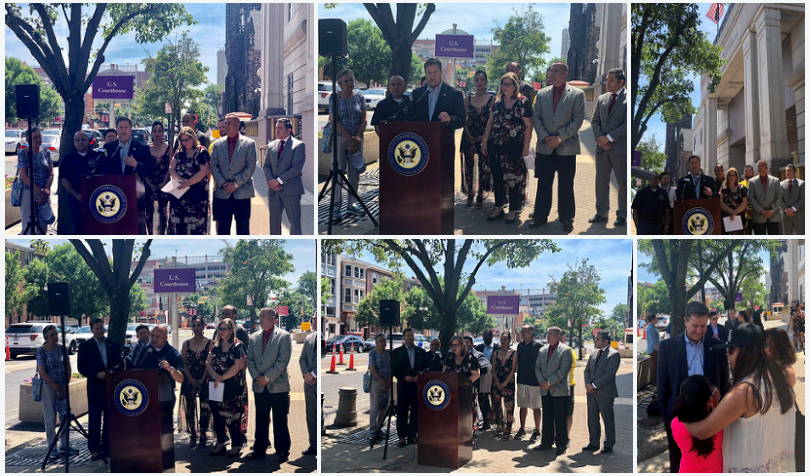 CAMDEN, NJ – Today, at a press conference at a U.S. District Courthouse, Congressman Donald Norcross (NJ-01) described the obstacles he faced scheduling an immediate visit to separated children in South Jersey and announced legislation he helped introduce to ensure that Members of Congress can fulfill their constitutional oversight duties by visiting federal facilities.
The Restoring Oversight for Members of Congress Act, H.R. 6260, led by Congressman Joaquin Castro (TX-20), would prevent visitation delays and undue obstacles for Members who seek access to facilities run by government agencies like the U.S. Health and Human Services (HHS).
Click here to view or download photos from the press conference in Camden and click here to view live video from the event.
"At the end of last week, I found out that separated children are being housed in South Jersey and I immediately reached out to request to see the children. Unfortunately, HHS has a two-week notice policy they refused to waive in these extreme circumstances," said Congressman Norcross. "The public's representative has a right to visit these children and make sure they've been treated well and that efforts are being made to reunify them with their families. Right now, it seems easier to visit nuclear weapons sites than kids in my own district who have been forcibly taken from their parents – and that must change."
The Center for Family Services, with offices in Camden, has been willing to accommodate the Congressman since his office first reached out and has a superb reputation in the community. The Congressman plans to visit a local site in July.
"I've received hundreds of calls, emails and letters from the people I represent who are outraged by the family separation policy and want me to visit the children brought to our area," said Congressman Norcross. "This commonsense bill will allow the people's representatives to properly do our jobs, hold other branches of government accountable and represent our constituents."
"Members of Congress are the eyes and ears of the American people. In order to conduct our congressional oversight duty, we must be allowed to inspect the very federal facilities that house migrant children," said Congressman Castro. "The Restoring Oversight for Members of Congress Act, of which my colleague Rep. Norcross supports, would provide members of Congress immediate access to all federal facilities—including detention centers, tent camps, military bases, and even leased and contracted sites. This legislation also provides an avenue for members to report their findings to the public. These kids have already suffered tremendously, and we must ensure the conditions in which they are being held are safe and humane even if the policy is not."
The Trump Administration has been enforcing a "zero-tolerance policy" that has immigrant children being inhumanely detained. Children have been moved around the country to various facilities miles and miles away from their parents.
Norcross said: "Family separation is immoral and un-American. I am a father, a grandfather and like most Americans, the descendant of immigrants. In this country, diversity is our strength and compassion is our value. Ripping apart families goes against those virtues."
In addition to Norcross, original cosponsors of the Restoring Oversight for Members of Congress Act include: Reps. Karen Bass (CA-37); Hank Johnson (GA-04); G.K. Butterfield (NC-01); Sean Patrick Maloney (NY-18); Ben Ray Lujan (NM-03); James P. McGovern (MA-02); Michael Capuano (MA-07); Eleanor Holmes Norton (DC); Filemon Vela (TX-34); Darren Soto (FL-09); Albio Sires (NJ-08); Juan Vargas (CA-51); Cheri Bustos (IL-17); Salud Carbajal (CA-24); Jimmy Gomez (CA-34); Nydia Velazquez (NY-07); Pete Aguilar (CA-31); Vicente Gonzalez (TX-15); Marc Veasey (TX-33); J. Luis Correa  (CA-46); Eric Swalwell (CA-15); Gene Green (TX-29); Adam Schiff (CA-28); Raul Ruiz (CA-36); Grace Napolitano (CA-32); Bill Foster (IL-11); Michelle Lujan Grisham (NM-01); Jose Serrano (NY-15).
The legislation is endorsed by the Refugee and Immigrant Center for Education and Legal Services (RAICES), Demand Progress and Immigration Hub. Companion legislation, S.3154, was introduced by Senator Ron Wyden (D-OR).
In addition to the Restoring Oversight for Members of Congress Act, Norcross supports the Keep Families Together Act, H.R. 6135, which prevents family separation and limits criminal prosecutions for asylum seekers. He also signed H.Res.927, which denounced the Administration's immoral actions and called for the immediate reversal of the policy.
###