Bipartisan Heroin Task Force Releases Legislative Agenda for 2018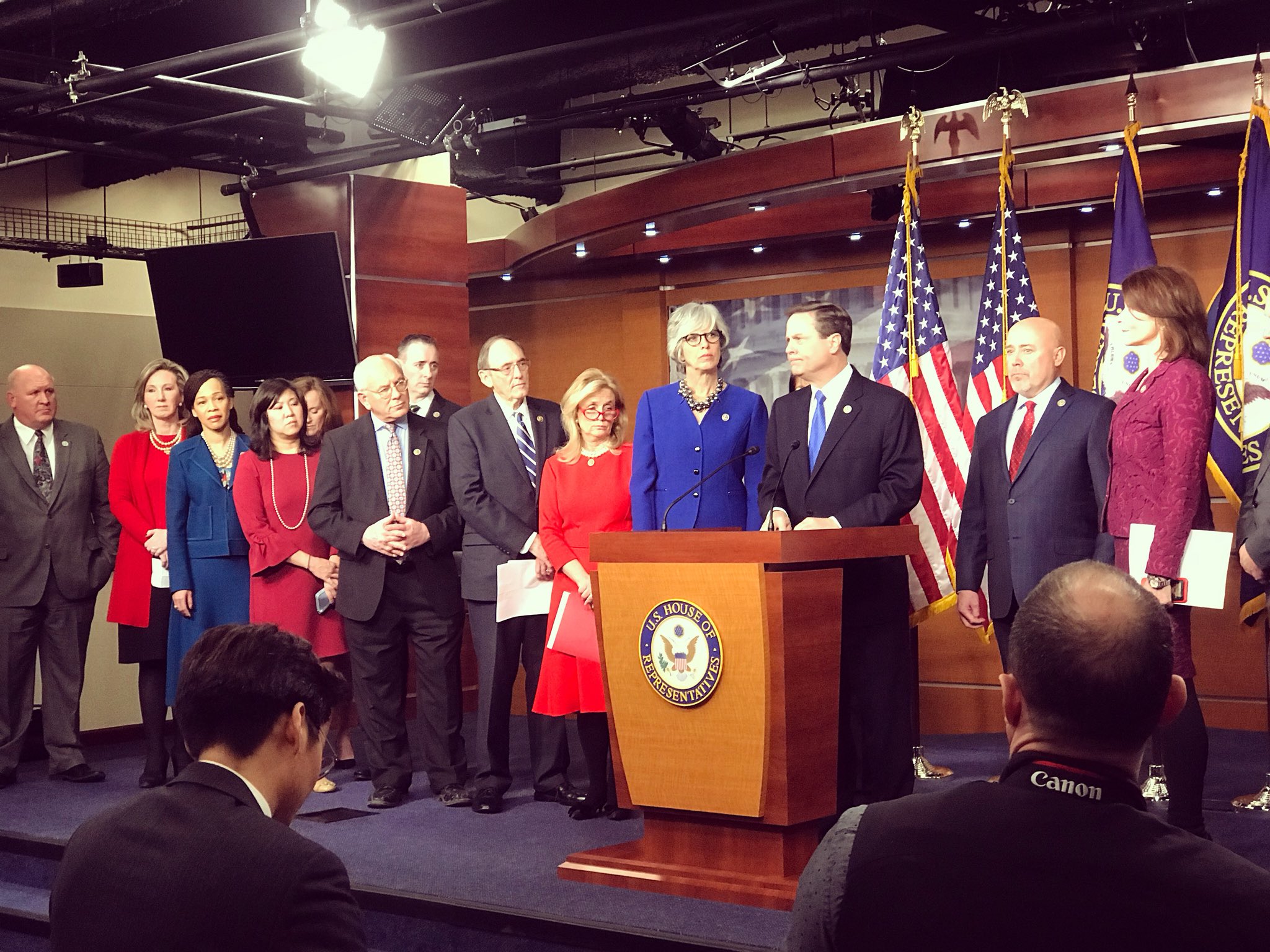 WASHINGTON, DC – Today, the Bipartisan Heroin Task Force led by Representatives Donald Norcross (D-NJ), Tom MacArthur (R-NJ), Annie Kuster (D-NH) and Brian Fitzpatrick (R-PA) released its legislative agenda for 2018. The agenda includes commonsense, bipartisan legislation to address the opioid epidemic by supporting prevention, treatment, recovery, and law enforcement efforts.
The bills included in the agenda include the Improve Addiction Education Act, Jessie's Law, the STOP OD Act, the Addiction Recovery Through Family Health Accounts Act, Addiction Treatment Access Improvement Act, Road to Recovery Act, the INTERDICT Act, TREAT Act, the Synthetic Drug Awareness Act, the CRIB Act, and the VA Prescription Data Accountability Act, Veterans Treatment Court Improvement Act, Opioid Addiction Prevention Act, Every Prescription Conveyed Securely Act, MONITOR Act, and Addiction Recovery for Rural Communities Act
Full details of the legislative agenda are available here.
"The Bipartisan Heroin Task Force continues to stand together offering commonsense legislative solutions to curb the opioid epidemic because one preventable death is too many," said Congressman Donald Norcross, vice-chair of the Task Force. "In New Jersey, deaths from heroin and fentanyl overdoses more than tripled in the last five years. That's tragic and unacceptable. We must invest time, effort and money to save lives. Every delay means we'll lose another child, grandchild, friend or neighbor to the disease of addiction."
"The opioid epidemic has had a serious impact on communities and families throughout New Hampshire, but no corner of the country has been untouched," said Congresswoman Kuster, the founder and co-chair of the Task Force. "The Bipartisan Heroin Task Force represents 100 Members of Congress, both Republicans and Democrats, who are standing together to take real action to stem the tide of this crisis. Our Task Force has successfully pushed for action in Congress to address the opioid epidemic. The agenda we're outlining today comprises bipartisan, commonsense solutions that will improve prevention, expand access to treatment and recovery services, and bolster support for law enforcement. I look forward to working with my colleagues to advance these proposals."
"As we begin the New Year, the Bipartisan Task Force remains even more committed to fighting the opioid epidemic that has ravaged so many communities and families across the country," said Congressman Tom MacArthur, co-chair of the Task Force. "Our agenda represents the important balance of showing compassion for those suffering with substance abuse, while stopping the flow of drugs into our neighborhoods. It's a crucial step in this fight.  Since its creation, the Bipartisan Task Force has grown to 100 members and has been able to successfully advocate against drastic cuts to the Office of National Drug Control Policy, and, shape and advance CARA and the 21st Century Cures Act through Congress. We will continue to build on these accomplishments and stand together in our fight against substance abuse." 
"In 2016, more than 42,000 Americans died from an opioid overdose, including dozens right here in our community," said Congressman Brian Fitzpatrick, vice-chair of the Task Force. "It's clear this epidemic is destroying lives and costing our nation precious resources. While our Task Force has taken great strides in increasing awareness of, and providing legislative solutions to, opioid addiction, there is still work to be done. Fighting back against this epidemic requires the clear, bipartisan approach outlined in this agenda; one that responds to the real-world concerns expressed by local lawmakers, community leaders and healthcare professionals across the country who endeavor to tackle this crisis each day."
The co-chairs of the Task Force were joined in today's announcement by Representatives Phil Roe (R-TN), Katherine Clark (D-MA), David Joyce (R-OH), Cheri Bustos (D-IL), Paul Tonko (D-NY), Debbie Dingell (D-MI), Evan Jenkins (R-WV), Marcy Kaptur  (D-OH), Tim Walberg (R-MI), Lois Frankel (D-FL), Glenn Thompson (R-PA), Ryan Costello (R-PA), Elise Stefanik (R-NY), Bruce Poliquin (R-ME), Sean Duffy (R-WI), Julia Brownley (D-CA) Keith Rothfus (R-PA), and additional Task Force Members.
###
Contact: Ally Kehoe, Communications Director
ally.kehoe@mail.house.gov