Norcross Announces New Security Expansion Bill During Briefing With Jewish Community Leaders
WASHINGTON, DC – Today, U.S. Congressman Donald Norcross joined religious leaders, law enforcement specialists and local elected officials at an event co-sponsored by the Jewish Federation of Southern New Jersey to discuss the security of the Jewish community in South Jersey. During the event, Norcross announced the Nonprofit Security Expansion Act – a bill that would increase grant funding for nonprofit organizations at risk of terrorist attacks, such as synagogues, churches and other vulnerable community centers.
"Nonprofits – including religious community centers – need our help now, more than ever, to ensure their facilities are secure and attendees are safe," said Congressman Norcross. "In response to the recent nationwide attacks on the Jewish community, we must further develop ways to protect synagogues and community centers and ensure that our own organizations feel safe, and the Nonprofit Security Expansion Act can help do that. The bill will increase funding so that nonprofits have access to resources to help provide our South Jersey friends and neighbors with the peace of mind they deserve."
Norcross' bill, the Nonprofit Security Expansion Act, would amend the Homeland Security Act of 2002 to increase the funding for the Nonprofit Security Grant Program (NSGP) from $90 million to $360 million, evenly divided amongst nonprofits in and out of UASI designated high-risk urban areas. The grants will be used for target hardening and other security enhancements to protect against acts of violence.
Norcross added: "It's a sad fact that we are experiencing a rise in domestic terror attacks and threats of violence by extremists of all ideologies. We are a nation of immigrants with a Constitution that protects religious freedoms. In this country, diversity is our strength and compassion is our value."
To read the bill text of the Nonprofit Security Expansion Act, click here.
The event, which took place at the Katz Jewish Community Center in Cherry Hill, focused on briefing Jewish community leaders, law enforcement and elected officials on recent anti-Semitic attacks in New Jersey and around the country, as well as security measures being taken to prevent future attacks.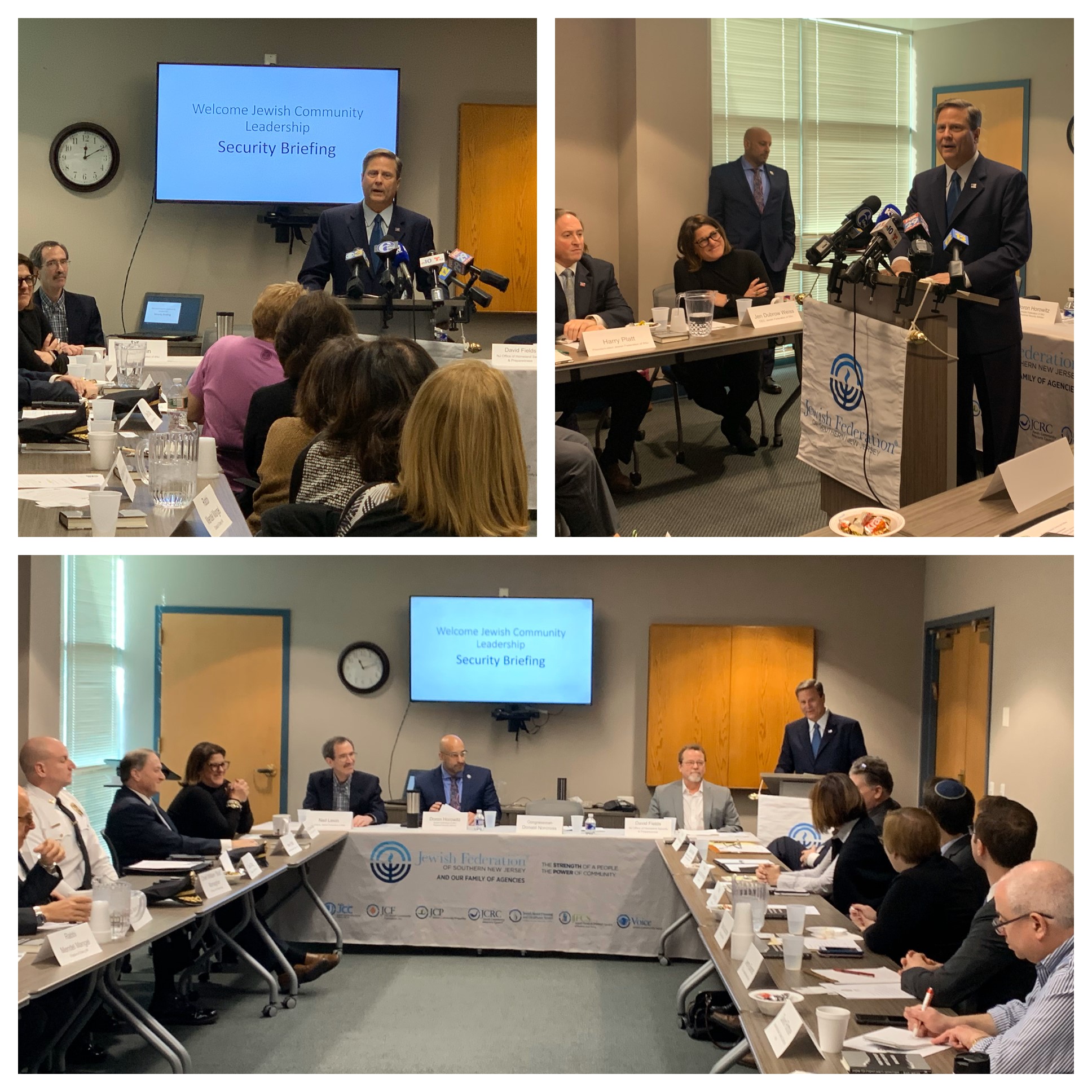 "I want to thank and applaud Congressman Norcross – last week, he submitted a bill in Congress to quadruple the amount of funding for the federal Nonprofit Security Grant Program from 90 million, to 360 million for fiscal 2021," said David Snyder, Chief Advancement & Community Relations Officer of the Jewish Federation. "Just 80 miles up the road, last month, people were killed, fellow Americans, just for being Jews. We don't want to bury our head in the sand and not recognize that this is something more prevalent than it has been."
"During his remarks, Congressman Norcross noted that since its inception, FEMA has determined that the Philadelphia-Camden-Wilmington Metropolitan Statistical Area should be provided UASI funding. However, FEMA has annually allowed the government of Pennsylvania to decide if southern New Jersey should be eligible to receive any portion of the UASI funding and, in turn, allowed Pennsylvania to keep all UASI-area funding in-state only, instead of distributing the funding to the full urban area.
"We need our law enforcement to work in conjunction with Jewish communities and institutions in order to mitigate threats and standardize procedures," said Doron Horowitz, Senior National Security Advisor at Secure Community Network. "One of the things I've worked on with local rabbis is helping prioritize where money is best spent in order to address immediate safety and security needs."
David Fields from the New Jersey Office of Homeland Security and Preparedness, Anti-Defamation League Regional Director Shira Goodman, Jewish Federation CEO Jen Dubrow Weiss, Cherry Hill Mayor Susan Shin Angulo and Voorhees Mayor Michael Mignogna were also in attendance, as well as local police chiefs.
Click here to view or download photos from the event.
###
Contact: Carrie Healey, Communications Director
carrie.healey@mail.house.gov