Norcross Announces Winner of 2020 Congressional Art Competition
WASHINGTON, DC – U.S. Congressman Donald Norcross (NJ-01) announced that Katherine Li of Cherry Hill East has won the 2020 Congressional Art Competition for New Jersey's First Congressional District.
Katherine, a rising sophomore at Cherry Hill High School East, titled her winning paining "The Family's Honor." The painting depicts a young man saluting beside his veteran grandfather, who holds a folded flag in commemoration of his son's sacrifice for the country. The painting will hang in the U.S. Capitol.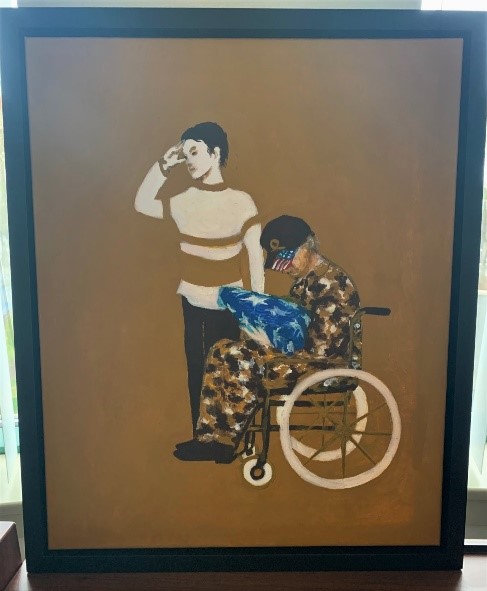 "Katherine's painting beautifully depicts the sacrifice families make when their loved ones go to war, sometimes never returning home," said Congressman Norcross. "As the proud father and father-in-law of veterans and a member of the House Armed Services Committee, I know that we, as a nation, owe a debt of gratitude to all of the families who supported their loved ones and paid the ultimate price when their heroes never returned home. I am proud to showcase this painting in the Capitol on behalf of South Jersey. "
"What initially inspired me to paint this piece was the idea of duty—specifically, the duty to serve our nation—and sacrifice, which I directly conveyed through the folded flag," said Katherine. "The folding ceremony takes place to commemorate veterans and those that have died fighting for their country. In this case, a veteran remembers his son while his grandson, a young soldier, pays tribute to the same man—his father. My painting reflects three generations of family that have committed themselves to serve. Having the honor to contribute, especially in the context of sacrifice and bravery, strikes me as really touching and admirable."
All student artists who submitted artwork for the competition will be honored by Norcross with an official Congressional certificate.
Norcross added: "Each year I am in awe of the unique and impressive talent that we have here in South Jersey and this year is no different. I believe many of these students will continue creating masterpieces for years to come, and we will even see some famous work coming out of South Jersey in the future."
Past Winners
###
Contact: Carrie Healey, Communications Director
carrie.healey@mail.house.gov