Norcross Announces Winners of 2017 Congressional Art Competition
WASHINGTON, DC – Today, Congressman Donald Norcross (NJ-01) announced the winners of the 2017 Congressional Art Competition for New Jersey's First Congressional District.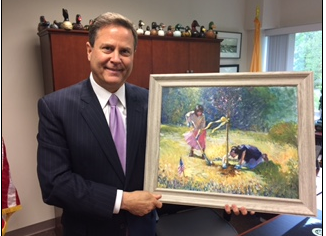 The first place winner, Hannah Jin of Cherry Hill Township, submitted a painting titled "The Tale of the Yellow Ribbon." The painting shows a mother and daughter planting a tree, on which they have tied a single yellow ribbon. Hannah, a 9th grade student at Moorestown Friends School, says the yellow ribbon serves as a symbol of remembrance and hope for members of the armed services.
"I congratulate Hannah for her ability to successfully depict such a moving and patriotic scene," said Rep. Norcross. "I am certain that many fellow Americans, myself included, can sympathize with the anticipation of waiting for a loved one to return home from their service. My son is a veteran and this painting made me think of him."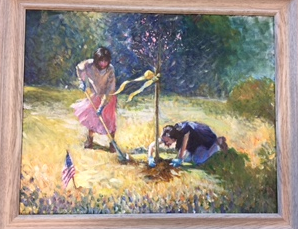 "Members of our military are an inspiration in strength and bravery – and so are their families," said Hannah. "I created this piece to show that hope is a powerful thing. Our families stay strong and hopeful, knowing that they will see their loved ones someday soon. I am honored to have my artwork on display for our leaders to pass by every single day."
Hannah will be honored at a ceremony in Washington, D.C. and her painting will hang in the U.S. Capitol for one year.
Lia Yamamoto was chosen as the second place winner for her drawing titled "Abby." Lia, a 12th grade student from Cherry Hill Township, attends Cherry Hill High School East and her pencil drawing depicts a close friend.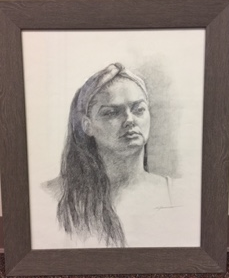 The third place winner is Hannah Pham, an 11th grade student who attends Sterling High School in Somerdale. Her piece is titled "Rosa Parks" and is a charcoal portrait of the late civil rights activist.
There were many art submissions from across New Jersey's First Congressional District and all artists will be honored by Rep. Norcross with an official Congressional certificate.
Rep. Norcross added: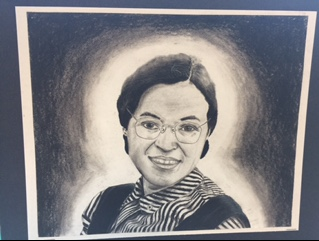 "I am always in awe of the talent that we have here in South Jersey and this year's submissions were all unique and impressive. I believe many of these students will continue creating great art for years to come and we will even see some famous work coming out of South Jersey in the future."
###