Norcross & Camden County VA Share Local Veterans' Stories with Library of Congress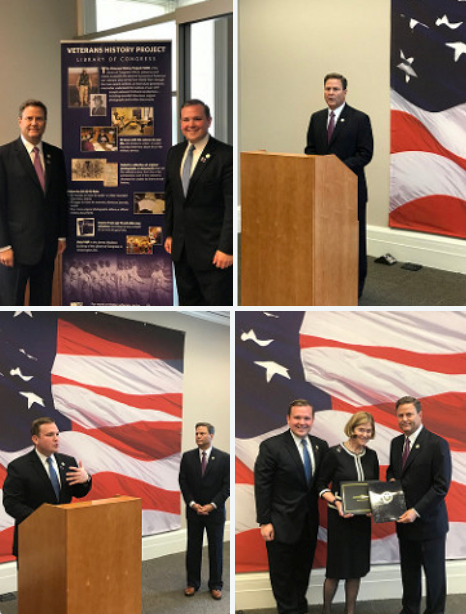 WASHINGTON, DC – Today, U.S. Congressman Donald Norcross (NJ-01), a member of the House Armed Services Committee, joined Freeholder Bill Moen to present video stories from local veterans to the Library of Congress for their 'Veterans History Project.'
"As we commemorate Memorial Day this weekend, I'm honored to submit these stories from local veterans. After all, their stories are our story," said Congressman Norcross. "My son and daughter-in-law are both veterans and I want their children and their children's children to know about their service and bravery. By collecting these stories, the Camden County VA and the Library of Congress are making sure that firsthand accounts from South Jersey's own will be heard for generations to come."
Colonel Karen Lloyd, the director of the' Veterans History Project,' accepted Camden County's first 25 video submissions. The County has already created 150 short documentaries from interviews with local veterans, and they plan to submit more of these stories to the national project.
"This is our first submission of hopefully many veterans' legacies into our nation's archives, including firsthand accounts and interviews with Gold Star families," said Freeholder Bill Moen, liaison to the Camden County Office of Veterans Affairs. "This group met the exacting criteria of the Library of Congress, and we are in the process of reviewing all of our veterans' documentaries to identify future submissions. All the recordings will continue to be a part of our own archives here in Camden County."
The 'Veterans History Project' collects and preserves firsthand accounts from U.S. veterans who served in World War I (1914-1918), World War II (1939-1945), the Cold War, the Korean War (1950-1953), the Vietnam War (1961-1975), the Grenada-American Invasion (1983), the Panama-American Invasion (1989), Operation Restore Hope (1992-1993), the Persian Gulf War (1991), the United Nations Operation in Somalia, the Haiti-American intervention (1994-1995), Operation Allied Force (1999), the Peacekeeping operations in Bosnia and Hercegovina, Operation Joint Guardian (1999-), the War on Terrorism (2001-2009), the Afghan War (2001-) and the Iraq War (2003-2011).
Anyone in South Jersey who would like to participate in or receive more information on the 'Veterans History Project' can call the Camden County Office of Veterans Affairs at 1-800-464-VETS.
###
Contact: Ally Kehoe, Communications Director
ally.kehoe@mail.house.gov