Norcross Fights to Raise the Wage Eight Years After Last Federal Minimum Wage Increase
WASHINGTON, DC – Today, eight years after the last federal minimum wage increase, U.S. Congressman Donald Norcross (NJ-01) – a member of the House Education and Workforce Committee and an electrician by trade – called on Congress to raise the federal minimum wage at a news conference with a bicameral group of lawmakers and low-wage workers.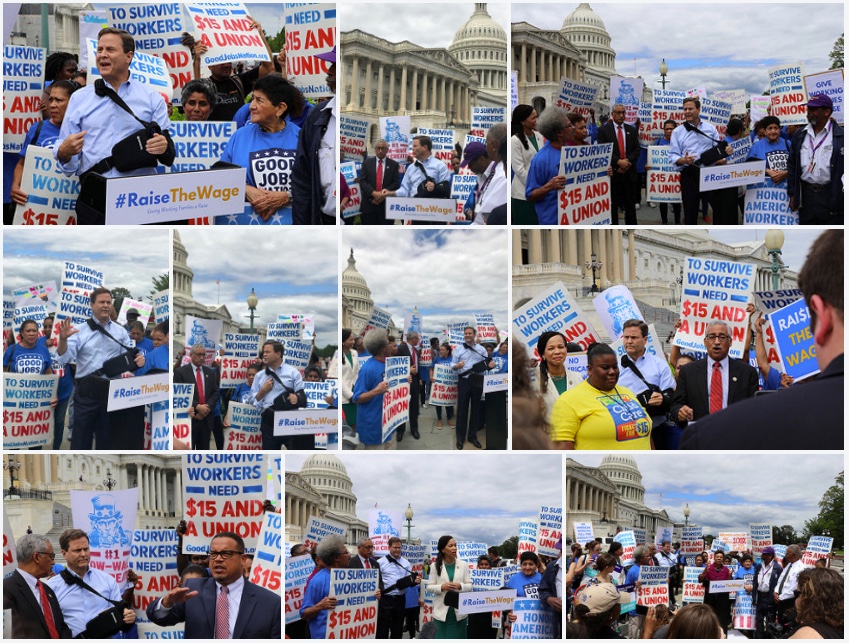 Click here to view or download photos.
"I've worked for minimum wage and I was once a young single dad raising my son and having to balance work, family life and a checkbook. Back then it was hard. Today, for far too many Americans, it's nearly impossible," said Congressman Norcross. "No American who works full-time should live in poverty. But that's exactly what's happening all around us."
He added: "Eight years ago, the last time the federal minimum wage increased, Uber wasn't a company and the net worth of billionaires was $4.4 trillion. Today, billionaires are now worth over $7.7 trillion and much has changed, but the federal minimum wage has not. Billionaires are thriving and it's well-past time for America's workers to get the raises they've earned."
The Raise the Wage Act
Norcross is an original sponsor of the Raise the Wage Act of 2017 that would increase the federal wage from the current level of $7.25 to $15.00 an hour by 2024 and index the minimum wage to the median wage starting in 2025. The act will also gradually eliminate loopholes that allow millions of workers to be paid substantially less than the federal minimum wage.
Representing the American Worker
An IBEW member and electrician by trade, Norcross has a long history of fighting for workers in South Jersey. He fought day in and day out to ensure workers had good-paying jobs as a business agent and as president of the Southern New Jersey AFL-CIO. In the state legislature, he was part of the successful fight to raise the minimum wage in New Jersey.
Related Content
Norcross and all of House Education and the Workforce Committee Democrats urge Chairwoman Virginia Foxx to hold a full Committee hearing on the Raise the Wage Act in a letter yesterday.
Norcross writes "first and foremost for me is raising wages" in an op-ed Sunday, July 23, 2017.
Norcross and colleagues introduce the Raise the Wage Act on May 25, 2017.
###
Contact: Ally Kehoe, Communications Director
ally.kehoe@mail.house.gov