Norcross Holds Drug Pricing Roundtable, Vows to Take Action to Lower Costs
PENNSAUKEN, NJ – Today, U.S. Congressman Donald Norcross (NJ-01) held a roundtable discussion about the high cost of prescription drugs and vowed to take action to help South Jersey families.
"Americans want and deserve access to quality health care and affordable prescription drugs," said Norcross. "Our families are crying out for relief. We must rein in prescription drug costs – and, to do that, I believe that we can and should be able to negotiate prices, make the pricing process more transparent, increase the availability of generics and continue to improve access to health insurance."
He added: "South Jersey patients, pharmacists and doctors agree that high prices are forcing people to make unthinkable choices. Now, we must act to save lives."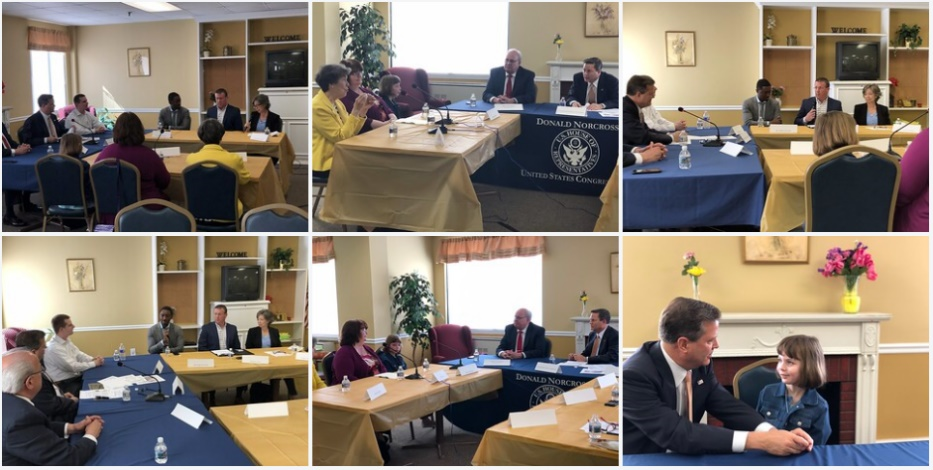 In Pennsauken Tower, Norcross was joined by Virtua Hospitalist Dr. Jubril Oyeyemi; Mark Taylor, the President of the New Jersey Pharmacists Association; Jane Leichner, a Haddon Township patient and retired teacher; Julie Terrell, a Sicklerville mother and her daughter, Marissa, who has a rare disease called Sturge-Weber syndrome; Cheryl Dunican-Hein, a Maple Shade patient and social worker; Pennsauken Mayor Jack Killion and Pennsauken Tower's Site Manager George Warner.
Click here to watch the roundtable discussion. Click here to view or download photos. Below are excerpts from the event:
Julie Terrell spoke about how her 10-year-old daughter, Marissa, needs medications because she has Sturge-Weber syndrome, a rare genetic disease. Even with a self-described good insurance policy and successful appeals for coverage to their provider, the Terrell family is making large payments for prescription drugs. Ms. Terrell said, "It could be a mortgage payment or a car payment – or even two car payments. Something's not right with the system."
Terrell described the specific situation involving her daughter's care. She said, "About a year and a half ago, there was a clause in our insurance policy that said 'generics preferred,' which made sense for my family. Later, I was told by the insurance company that even if the doctor recommended a brand-named drug, we would have to pay the cost-share-difference, which ended up being $892 a month, plus a $40 copay on top of that. We didn't know what to do. That's an additional $10,000 out-of-pocket every year. I met Congressman Norcross and his team [right after I found out about these costs], and thankfully they helped my family go through four appeals. On the fifth appeal, with the help of the Congressman and his team, we got the cost down to $60 a month."
"[The pharmaceutical companies] make you jump through terrible hoops to try to counter their judgment," said Jane Leichner, a teacher from Haddon Township. "I guess I'm supposed to feel lucky that I paid almost $300 for a fifth of an ounce of an ointment that's been around for a long, long time."
"I can easily imagine being in a position of choosing between taking medications and eating," said Cheryl Dunican-Hein, a Medicare recipient with a chronic disorder. "I am one of the people who has tried taking half of the dose that was prescribed. It didn't work for me. The symptoms returned."
"The number one reason why people end up back in the hospital is because of medications – and the lack of access to and the high cost of medications they need," said Dr. Jubril Oyeyemi, a Virtua Health hospitalist. "I want to tell you about Mrs. S – a pseudonym for a woman who came to our Emergency Room after having a second heart attack. The 'red flag' for me was learning that she was not on any medications – when she should have, at the very least, been on basic, standard-of-care prescriptions. The reason? She couldn't afford both her doctor visits and her medications, so she made the tough choice to skip purchasing her needed pills. That's a problem."
"For medications treating very common diseases, such as high blood pressure, diabetes and asthma, people can't afford the copays. And then when you get into other, more serious diseases, which need 'specialty medications,' it gets even worse." said Mark Taylor, President of New Jersey Pharmacists Association (NJPHA) and owner of Curexa pharmacy.
"To be playing with people's lives is despicable and unconscionable," said Pennsauken Mayor Jack Killion.
In early April 2019, the House Energy and Commerce Committee passed 12 bills to lower health care and prescription drug costs for consumers. Drug pricing legislation is expected to be considered by the full House of Representatives within the next couple of months.
###
Contact: Ally Kehoe, Communications Director
ally.kehoe@mail.house.gov