Norcross Message to Admin: "Keep Oil & Gas Rigs Away from the Atlantic Coast"
Reports Surface of Executive Order to Reexamine Locations for Offshore Drilling
CHERRY HILL, NJ – Today, as reports surface that an Executive Order is in the works to review the locations available for offshore oil and gas exploration, Congressmen Donald Norcross (NJ-01) urges the Administration to keep in place the Outer Continental Shelf Oil and Gas Leasing Program of 2017-2022, which prohibits drilling in the Atlantic Ocean.
"The vibrancy of the Jersey Shore allows our state to thrive and survive; and I strongly implore the Administration to keep offshore drilling away from the Atlantic Coast," said Rep. Norcross. "I am deeply disturbed that we are faced with renewed concerns about the future of our Atlantic Coast, since there are serious economic, national security, environmental and safety issues at stake. Mr. President: Listen to the coastal communities, not the Big Oil companies, and keep our shores safe, secure and oil-free."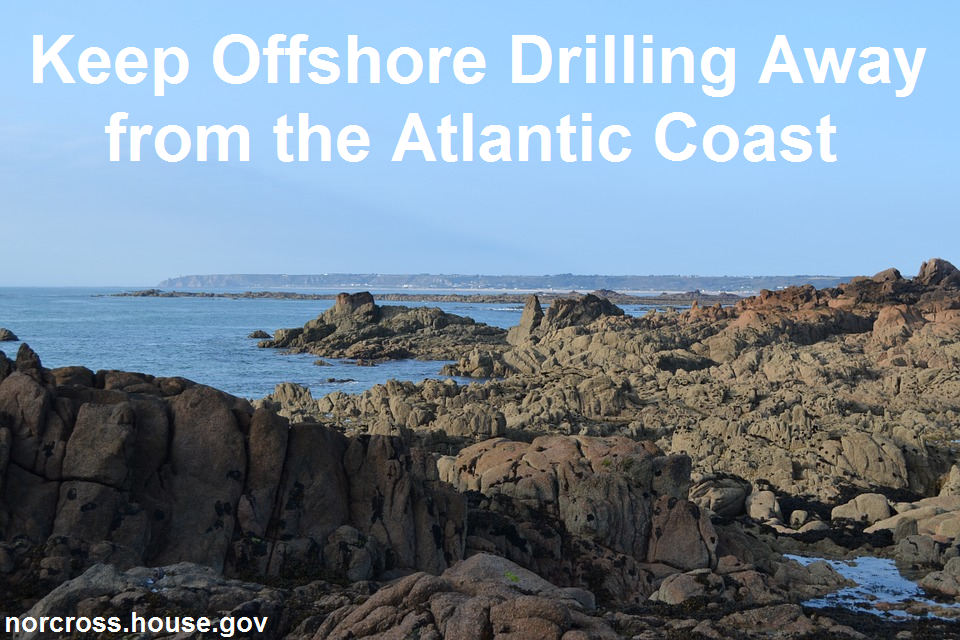 New Jersey's shore-based tourism industry generates $38 billion a year and supports almost half a million direct and indirect jobs, or nearly ten percent of the state's entire workforce. There are over $700 billion in coastal properties on the shore and New Jersey's commercial fishing industry generates over $7.9 billion annually and supports over 50,000 jobs. The state also has one of the largest saltwater recreational fishing industries in the nation. A major spill, like the BP Deepwater Horizon disaster, could happen just a few miles off the New Jersey coastline. This would pose a direct threat to our local tourism economies and the success of local businesses, which are inextricably tied to clean coasts and healthy thriving ocean ecosystems.
Drilling off the Atlantic also has potential national security risks. The Pentagon says Atlantic offshore drilling could hurt military maneuvers and interferes with missile tests the Navy relies on to protect the East Coast, according to The Washington Post. In March 2016, Department of Defense spokesman Matthew Allen said: "Live training exercises are conducted off the Atlantic Coast from unit level training to major joint service and fleet exercises. These live training events are fundamental to the ability of our airmen, sailors, and marines to attain and sustain the highest levels of military readiness. Additionally, [the Defense Department] conducts major systems testing activities in the mid-Atlantic region that are also important to military readiness."
Norcross, a member of the House Armed Services Committee, added: "Follow the advice from the Department of Defense, keep oil rigs away from the Jersey Shore and keep our beaches clean and clear for future generations."
Since coming to Congress, Norcross has joined bicameral efforts to kill the drill off the Atlantic Coast. After constant pleas to the Administration, in 2016 the lawmakers were successful in keeping a prohibition of drilling in the Atlantic in the Outer Continental Shelf Oil and Gas Leasing Program of 2017-2022.
###
Contact: Ally Kehoe, Communications Director
ally.kehoe@mail.house.gov