Norcross, Student-Parents Discuss Need for Quality, Affordable Child Care
BLACKWOOD, NJ – Today, U.S. Congressman Donald Norcross (NJ-01) held a roundtable discussion with student-parents, child care providers and representatives from Camden County College (CCC) to discuss child care options for student-parents, including CCC's child care facility Kiddie Junction. Norcross also discussed his actions in Congress to increase resources for student-parents.
"As a young single dad working in the construction field, I struggled myself to find affordable, quality child care – forty years later and not much has changed for parents today," said Congressman Donald Norcross, a member of the House Committee on Education and Labor. "Many student-parents are forced to choose work over their education because they cannot find quality, affordable child care. In Congress, I am fighting to ensure that student-parents won't face the same obstacles that I did and will have access to quality child care so that they and their children have the resources and opportunities they need to succeed."
He added: "The child care facility located on Camden County College's campus is a great example of what should be offered at schools across the county. Every college campus should be afforded the funding so that they can offer quality, affordable child care."
Norcross was joined by faculty from CCC, including CCC's child care facility Kiddie Junction and CCC student-parents who utilize Kiddie Junction.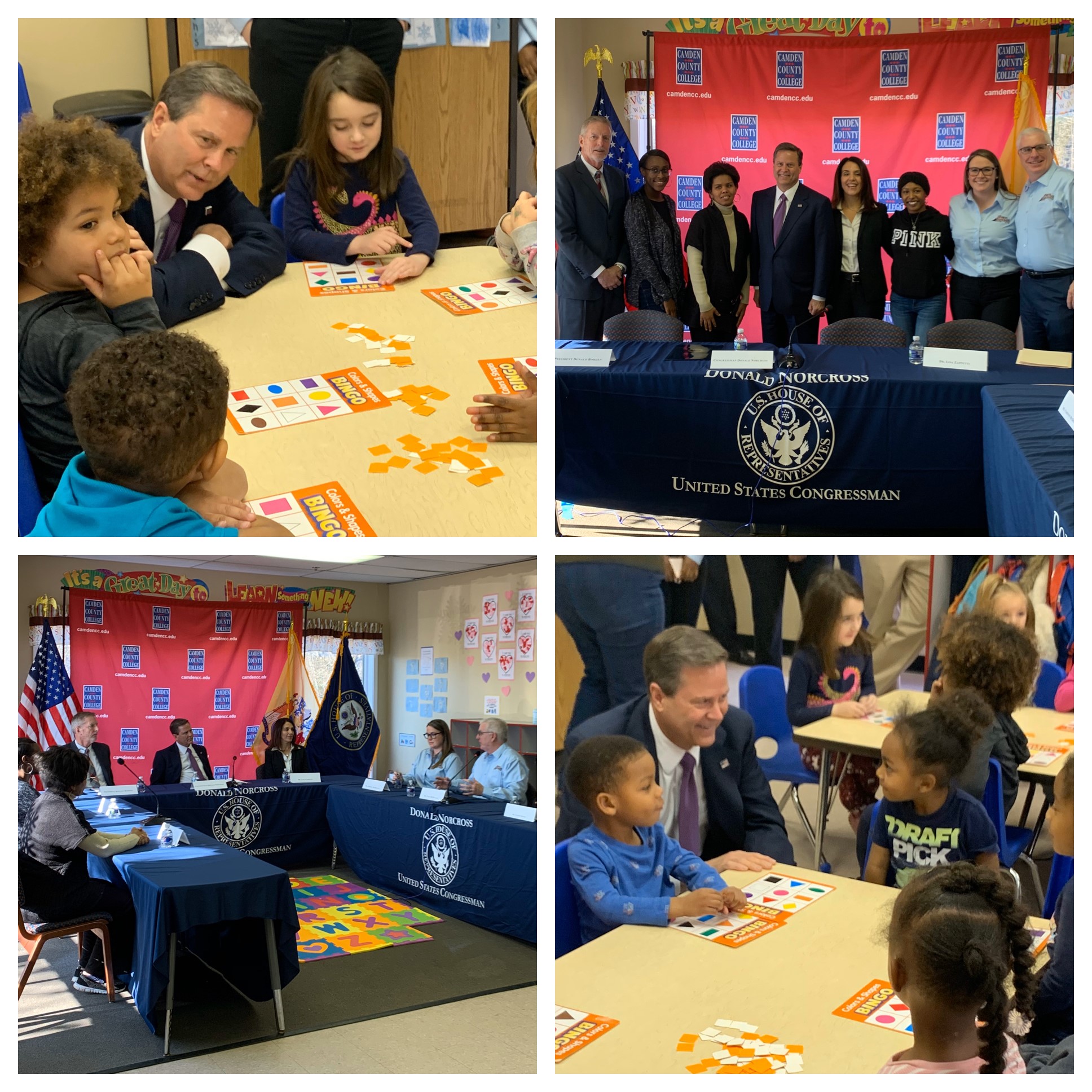 Click here to watch the roundtable discussion. Click here to view or download photos.
Faculty from CCC included President Don Borden and Early Childhood Education Professor Dr. Lisa Zappetti, who spoke about the child care facility and its impact on CCC students:
"When we invest in our parents, we are also investing in our kids long-term. If you can educate a parent, provide better opportunity for them to earn a living wage, they're going to be in a better position to support their children with their education, not just fiscally, but also having gone through the process themselves," said Don Borden, CCC President. "I see the ripple effects of this legislation  far beyond just helping parents get their education here and now – this is an opportunity to build prosperity not just for a single generation, but for generations to come."
"As more mothers go into the workforce, the need for quality child care has increased. Those first five years are the most important years of a child's life," said Dr. Lisa Zappetti, a childhood education professor at CCC. "If they can get quality child care while their mother is working or going to school or doing both, it will have a lifelong impact. A child's most important role model is their parents. It is important for a child to see their parent studying, going to school, working hard."
Paul and Corrine McDonald, representatives from Kiddie Junction Childcare & Preschool Center, spoke about their child care facility and its importance:
"We look at the whole parent, the whole situation and what we can do to help them," said Corrine McDonald, Director of Kiddie Junction. "A lot of parents say they didn't even know this facility was here. 'If I had known this before I would've gone back to school last year,' so getting parents through the enrollment process is the most important part. We are there to help direct them and navigate that process to help them get started."
"The vast majority of these students would not be able to go to school if this partnership didn't exist," said Paul McDonald, Managing Member of Kiddie Junction. "This formula works, funding for this formula largely becomes the obstacle."
Student-parents who currently attend CCC and utilize the on-campus child care facility, Kiddie Junction, spoke about the positive impact having accessible, quality child care has had on them and their children:
"I am extremely grateful that I am able to have my children here – it is a comfort thing, I have developed a relationship with the directors here and trust them with my kids," said Tiara White, a CCC student-parent. "I am thankful I can go to school stress free without worrying about my children's safety. My GPA has never been so high."
"Each time I drop my daughter off at Kiddie Junction, she gets so excited. It is a blessing knowing my daughter is being taken care of properly," said Kimberly Beatty, a CCC student-parent. "Children come here and are also able to learn. I have seen a big difference in my child since she has been coming here."
"It takes a village to raise a child, we can't do it alone," said Naomi Word, a CCC student-parent. "You don't want your kid to feel unsafe, so it was important for me to feel comfortable sending my son here. It made going back to school a lot easier. My education is an investment in my child's future and mine."
Today's event follows Congressman Norcross' recent legislative actions:
###