Norcross: "There's a War on Women's Health; We Must Win the War"
Planned Parenthood Patients, Staff, Supporters Join Norcross at News Conference
CAMDEN, NJ – Today, Congressman Donald Norcross (NJ-01) strongly said "#IStandWithPP" at a news conference with local Planned Parenthood patients and staff, and called for ongoing support in the fight for women's healthcare funding. 
"Congress should be fighting to protect and improve women's health programs, not eliminate them," said Rep. Norcross. "Let's invest in cures for cancer, not restrict access to cancer screenings. Our nation should be working to prevent sexual assaults, not demonizing and scrapping services for those who have been assaulted."
He added: "There's a war on women's health in Congress. So far, we've won a few battles, but we've had a few setbacks. Ultimately, we must win this war by standing strong against the assault on human decency and access to needed care."
While Republicans in Congress continue to push to "defund" Planned Parenthood, the speakers at the news conference explained how that effort treats Planned Parenthood differently than any other healthcare institution by denying Medicaid reimbursements for cancer screenings, birth control and other preventative services that currently help millions of Americans. They discussed the women's health cuts in President Trump's proposed budget, through TrumpCare and with the recent Title X reversal.
Kristi Marciano, a New Jersey Planned Parenthood patient, spoke about losing her maternal and paternal grandmothers to breast cancer and explained why she relies on Planned Parenthood's reproductive preventative care. Without insurance coverage, or access to affordable services like cancer screenings at Planned Parenthood, Marciano's life could be in jeopardy.
"One in five women in this country rely on Planned Parenthood for care. They will not stay silent as politicians vote to take away their care and their rights," said Casey Olesko, Planned Parenthood NJ. "Women and men across the country will fight to protect access to Planned Parenthood and to defeat this bill."
"Last week, we saw men standing in the Rose Garden celebrating their plan to rip health services away from women. Today, I'm proud to stand with women, with Planned Parenthood, fighting for these critical health services," said Norcross.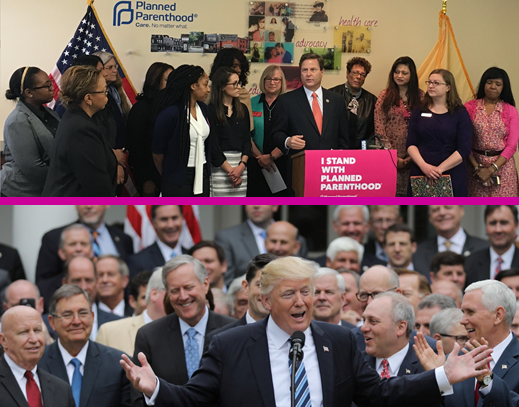 Speakers at the news conference included Congressman Donald Norcross, Camden City Mayor Dana Redd, Cherry Hill Councilwoman Carolyn Jacobs, Planned Parenthood Communications Manager Casey Olesko, Planned Parenthood Clinician Rahbbea Norton-Lee and Planned Parenthood Patient Kristi Marciano.
###
Contact: Ally Kehoe, Communications Director
ally.kehoe@mail.house.gov