Norcross Visits with Inspira Health Leadership
WASHINGTON, DC – U.S. Congressman Donald Norcross (NJ-01) was welcomed to Inspira Health's corporate headquarters today to discuss the federal government's response to the coronavirus pandemic and to learn about Inspira's robust readiness and response planning. It was the first hospital visit in the state by Norcross since the House passed COVID-19 legislation late Friday night.
"We in Congress have already approved $8.3 billion in new resources to combat the Coronavirus, we just took action to ensure that everyone who needs to be tested can be free of charge and we're expanding paid leave to provide economic security for workers if you or a loved one gets sick," said Congressman Norcross. "Our region's health care providers are on the front lines protecting our community, and I'm thankful for the planning that Inspira has undertaken to keep its patients, visitors and staff safe. This week, I am meeting with each of our hospital systems to support their efforts and advocate for the needs of our families and health care professionals."
Norcross added: "I will continue to work with federal, state and local officials to contain the spread and move forward, ensuring that South Jersey is prepared, residents are healthy and our workers and their families are protected."
Norcross met with members of the Inspira senior leadership team including: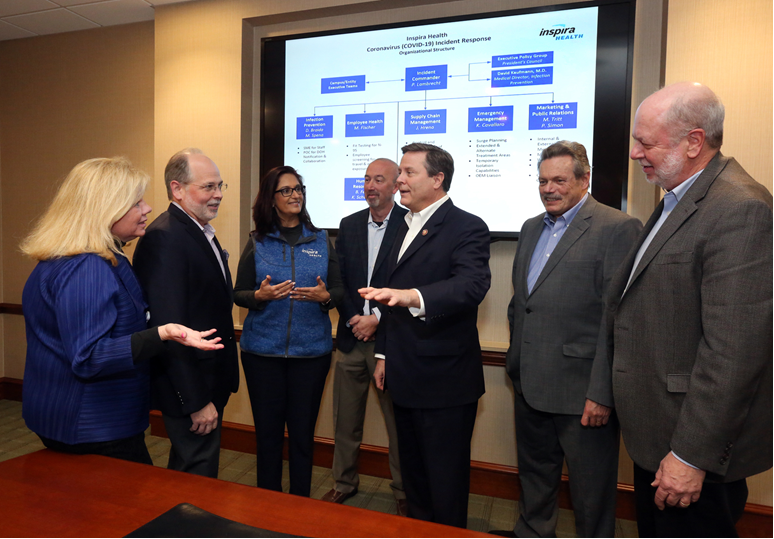 Thomas Baldosaro, Executive Vice President and Chief Financial Officer
Alka Kohli, M.D., M.B.A., Executive Vice President and Chief Population Health and Clinical Officer
Erich Florentine, Senior Vice President and Chief People Officer
Peter Kaprielyan, Vice President of Government and External Relations
Paul M. Lambrecht, Vice President of Quality and Patient Safety, and Incident Commander for the COVID-19 Response
Kathy Scullin, Vice President of Marketing and Public Relations
"We thank Representative Norcross for making the time to meet with us," said Alka Kohli, M.D., M.B.A., executive vice president and chief population health and clinical officer for Inspira. "We are at heightened state of readiness and have all necessary protocols in place when we receive our first patient who tests presumptive positive for COVID-19."
The meeting was held at Inspira's corporate office in Mullica Hill to avoid an unnecessary visit to a clinical facility. The Inspira team briefed Norcross about the incident command center that has been operationalized to manage the response and further prepare for the arrival of patients with COVID-19. Inspira has no presumptive or confirmed COVID-19 cases at this time.
###
Contact: Carrie Healey, Communications Director
carrie.healey@mail.house.gov