Norcross Visits with Virtua Health Leadership; Discusses COVID-19 Preparedness and Response
WASHINGTON, DC – U.S. Congressman Donald Norcross (NJ-01) met with Virtua Health leadership today to discuss the federal government's response to the coronavirus pandemic and to learn about the steps Virtua has taken to keep their patients and staff healthy and safe. Norcross also briefed the faculty on Congress' actions in protecting workers and families, including House passage of the Families First Coronavirus Response Act.
"In Congress, we have been working hard to pass strong, bipartisan bills that protect the health, economic security and well-being of American families. Congress has approved an $8.3 billion emergency funding package to fight the coronavirus crisis, and the House has passed the Families First Coronavirus Response Act which ensures everyone who needs to be tested will be tested for free and expands paid leave to support workers and their family members in case of illness," said Congressman Norcross. "South Jersey health care providers are on the frontlines protecting our community, and I'm grateful for the measures Virtua has taken to prepare and keep its staff, patients and visitors safe. As I meet with each of our hospital systems, I'm consistently impressed with their efforts to protect our families and health care professionals."
Norcross added: "I will continue to work with federal, state and local officials to contain the spread and move forward, ensuring that South Jersey is prepared, residents are healthy and our workers and their families are protected."
Norcross met with members of the Virtua senior leadership team including: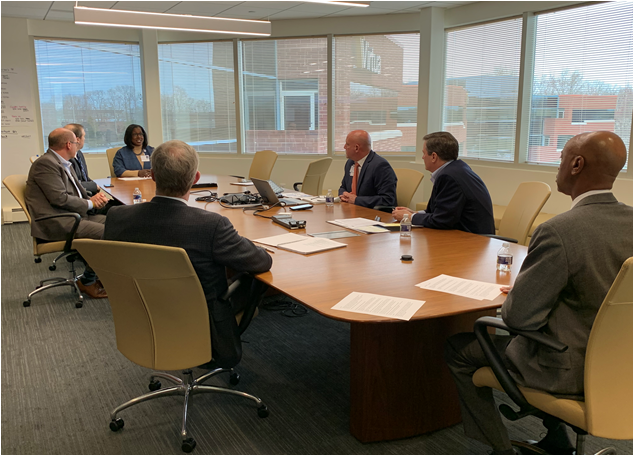 Dennis W. Pullin, FACHE, President & CEO
John Matsinger, DO, Executive VP & Chief Operating Officer
Reginald Blaber, MD, Executive VP & Chief Clinical Officer
Rhonda Jordan, Senior VP & Chief Human Resources Officer
Paul Sarnese, Assist. VP of Safety, Security, & Emergency Preparedness
Cort Adelman, VP Government Relations
"We thank Congressman Norcross for taking time to meet with our leadership today and hear from our teams," said Dennis W. Pullin, FACHE, President & CEO. "The health and well-being of our staff, patients and the community are top priorities for both the Congressman and Virtua."
The meeting was held at Virtua Health's corporate headquarters. Attendees were screened before entering.
###
Contact: Carrie Healey, Communications Director
carrie.healey@mail.house.gov