South Jersey Higher Education Leaders & Students Join Norcross to Discuss College Affordability, Accessibility & Workforce Training
CHERRY HILL, NJ – Today, U.S. Congressman Donald Norcross (NJ-01), a member of the House Committee on Education and Labor's Subcommittee on Higher Education & Workforce Investment, held a roundtable discussion with South Jersey higher education leaders and students. The discussion, which focused on affordability, accessibility and workforce training, precedes Congressional action to reauthorize the Higher Education Act this fall and winter.
"We must work to make college more affordable, more inclusive and more effective in preparing students for the jobs of the future. Our children and grandchildren should not be graduating with astronomical debt and a piece of paper that doesn't lead to a good-paying job," said Congressman Donald Norcross. "Our area's institutions have affordability programs that are unmatched national exemplars. As we work to provide opportunities for all American students to succeed, there is no better place to look for inspiration than in South Jersey."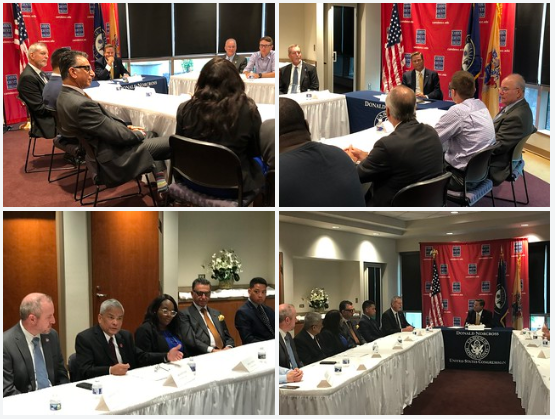 Click here to watch the roundtable discussion. Click here to view or download photos.
Representatives from Camden County Community College, Rowan University, Rutgers University—Camden, Rowan College of South Jersey, Rowan College at Burlington County and Stockton University participated in the roundtable.
Below are excerpts from the event:
"There isn't one college or university president in this room – or, I would say, anywhere – where college affordability isn't a significant issue and a big discussion. We all must be working on it," said Dr. Harvey Kesselman, President of Stockton University.
"It's important to make sure college is possible for everyone, not just select students," said Don Borden, President of Camden County Community College. "We have to do a better job of up-front educating students and guidance counselors so that they are not confused or overwhelmed."
The financial aid application process can be confusing for many students and their families. Every year, Congressman Norcross hosts a College Financial Aid Workshop to help provide resources for South Jerseyans.
"A problem we have today is that the poorest of poor people have to fight FASFA," said Ali Houshmand, President of Rowan University. "Filing a FASFA is hard. To really help people, the greatest thing we can do is make sure that everyone who is eligible for a grant gets it."
Rowan's 3+1 program was mentioned throughout the discussion, along with the benefit of going to a local community college and taking advantage of the hardship assistance program at Stockton and the bridging the gap program at Rutgers University—Camden.   
"We have increased the number of first-generation students by 30% and we our student population is more diverse than ever before," said Michael Palis, Provost at Rutgers University—Camden. "It's important to discuss access and affordability and making sure the students can get their degree in a timely manner."
"There are too many horror stories where someone goes away for a year and comes back with huge debt. I always say that community colleges is, by definition, college affordability," said Dominic Burzichelli, Vice President of Rowan College of South Jersey.
"A lot of college graduates over the last 20 years have a bad taste in their mouth. They mention having debt, a hundred credits and no degree, or even a degree and no job," said Michael Cicoe, President of Rowan College of Burlington County. "There are a lot of options. People have access today to information that they didn't 20 years ago."
"There are resources about college and affordability available to us, which is helpful because there is a lot of pressure about finding our career," said Brian O'Neal, a student at Rowan College of Burlington County. "The support from South Jersey schools gives us a chance to make it without killing ourselves."
Some of the most heartfelt moments during the discussion came when students described their career and academic trajectories.
"Unfortunately, after an accident where a drunk driver hit me, I had to recover. When I decided to go back to school, I found my way at Stockton," said Michael Faulk, a student at Stockton University. "Tough times happen, but I am thankful for the hardship assistance program at Stockton. If it wasn't for that program, I wouldn't be taking classes in the fall."
"Nine of the techs at my job graduated from Camden County College. Those nine people showed me that I can have success," said student Roman Carandang, a 25-year-old student at Camden County College. "After meeting with my advisor and transferring into the tech automotive program, I really found my place."
"Senior year of high school was one of the hardest years of my life. I am a first-generation college student. I have a twin sister, so we both needed to look at what was affordable," said Arielle Gideon, student body president at Rowan University. "I am where I am today because of Rowan's pre-college preparation program."
"The state universities here in South Jersey are really doing a good job at attracting students here and making them stay," said Alex Belonzi, a student Stockton University.
###