Norcross Welcomes Education Secretary Cardona to South Jersey to Meet with Students, Local Leaders to Discuss College Affordability & Supporting School Reopening Through the Build Back Better Agenda
CAMDEN, NJ – Today, U.S. Congressman Donald Norcross (NJ-01) welcomed the U.S. Department of Education Secretary Miguel Cardona to South Jersey. Secretary Cardona's visit included a tour of Rowan College of South Jersey, Nursing and Health Professionals Building, a roundtable discussion on the need to pass additional education assistance and a visit to the North Camden City Community Center to meet with high schoolers to discuss reengaging youth and how the American Rescue Plan is getting kids back to school.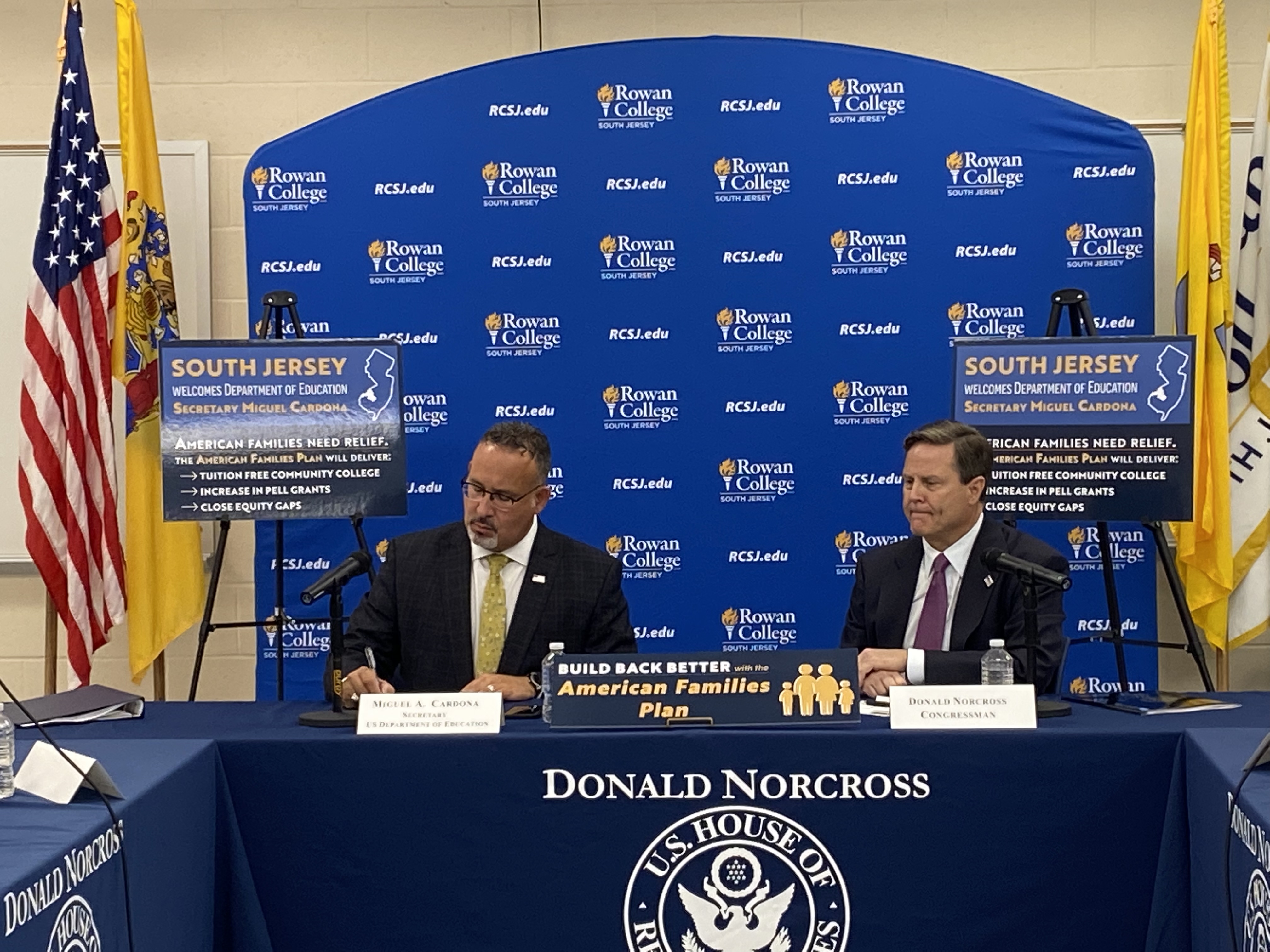 "Here in South Jersey, we know the importance of financial support for students and how it benefits not only them, but our communities by creating opportunities for our future leaders," said Congressman Norcross, a member of the House Committee on Education and Labor. "South Jersey remains a leader in innovative higher education programs, however, we must pass additional provisions of the Build Back Better Agenda to get students across the country the resources they need to thrive and create major investments in education. I thank Secretary Cardona for his visit to South Jersey, and I look forward to continuing to work together to build back better."
"I want to applaud what's going on here," said Secretary Cardona, US Department of Education. "Education is the backbone of our country's growth and students here are getting skills to fulfill their life's purpose. It's exciting when we see systems that work well together and talk to each other and have their students at the center. The build back better agenda is going to accelerate the world we are already living in."
During the visit, Secretary Cardona and Congressman Norcross hosted a roundtable at Rowan College of South Jersey where they met with students and education leaders to discuss making higher education more affordable through provisions within President Biden's Build Back Better agenda.
Representatives present from across the district included President of Rowan College of South Jersey Fred Keating, Chancellor of Rutgers University – Camden Antonio Tillis, President Rowan University Ali Houshmond, Vice President of Camden County College Dr. David Edwards, Gloucester County Commissioner Bob Damminger, Jesus Calixto, a student at Rowan University and Miriam Craig-Venti, a 2021 graduate of Rowan College of South Jersey.
A video of the roundtable is available here.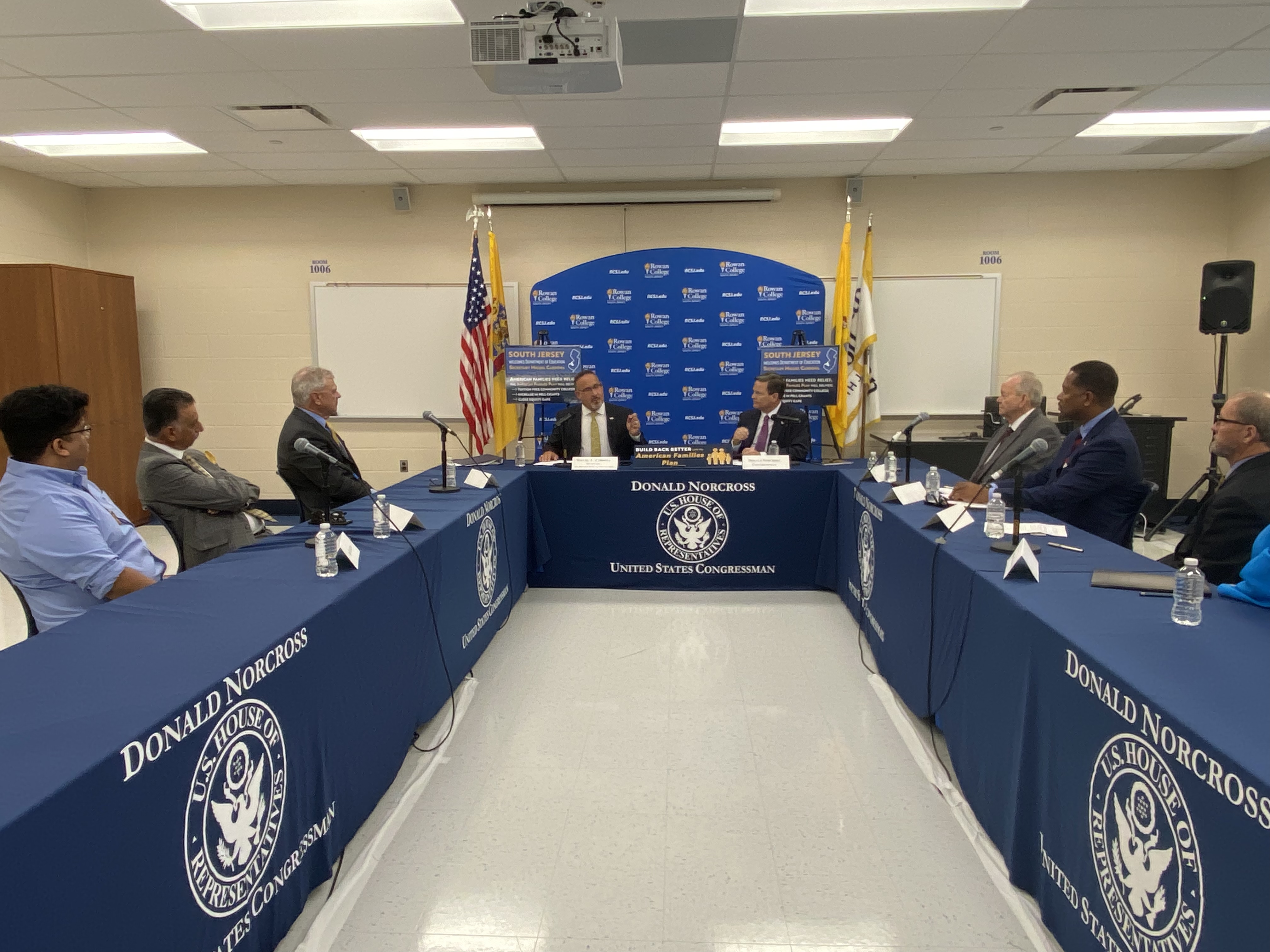 "The American Rescue Plan has provided a lifeline for the schools here in South Jersey," said Congressman Norcross. "We are blessed to have such great institutions in our district that work so well together. Now, it's time to pass additional legislation to deliver resources to students across the country so that they can focus on their education and excel."
"During the pandemic, the federal funding we received was the only way we could survive," said President Keating of Rowan College of South Jersey. "This new plan could give us the national structure we need. Designing programs to connect high school students to their future education so that they can see their options is so important."
"We must give people options because not every student is the same," said President Houshmond of Rowan University. "The moment a student gets into college, they see Rowan and beyond."
"I don't think we would have survived without the American Rescue Plan," said Chancellor Tillis of Rutgers University–Camden. "It is our responsibility to make sure that there are structured steps to take so that we can get our students from K-12 to the next step. We work here at Rutgers–Camden to make sure students understand what their possibilities are. We look to educate the whole student."
"An important part of the American Families Plan is that last dollar that goes to making college affordable for our students," said Vice President Edwards of Camden County College. "Students don't need funding just for tuition but also for technology. During the pandemic students started to reach out to us saying they didn't have a computer at home, that they relied on that the computer labs on campus. Federal funding was able to allow us to help them and work to close that equity gap."
"It's so important for us to push education, not just higher education. We take care of our high school program and having schools for the developmentally disabled," said Gloucester County Commissioner Bob Damminger. "Gloucester county is committed to education and working together to find ways to keep college affordable."
"Two years ago, I had a mental barrier make me think I couldn't go to college," said Jesus Calixto, a student at Rowan University. "Luckily I have a big support system and one day I heard about a state grant that funds low income students and that was my first foot in the door. From then on, it's been one big rollercoaster full of opportunities."
"I enthusiastically support the American Families Plan to provide younger children a head start in school and those over 18 a two-year tuition free community college education," said Miriam Craig-Venti, a 2021 graduate of Rowan College of South Jersey. "To be hired nowadays you need to hold a degree. Just like the cost of living, education needs to increase, and we must invest in the future of knowledge."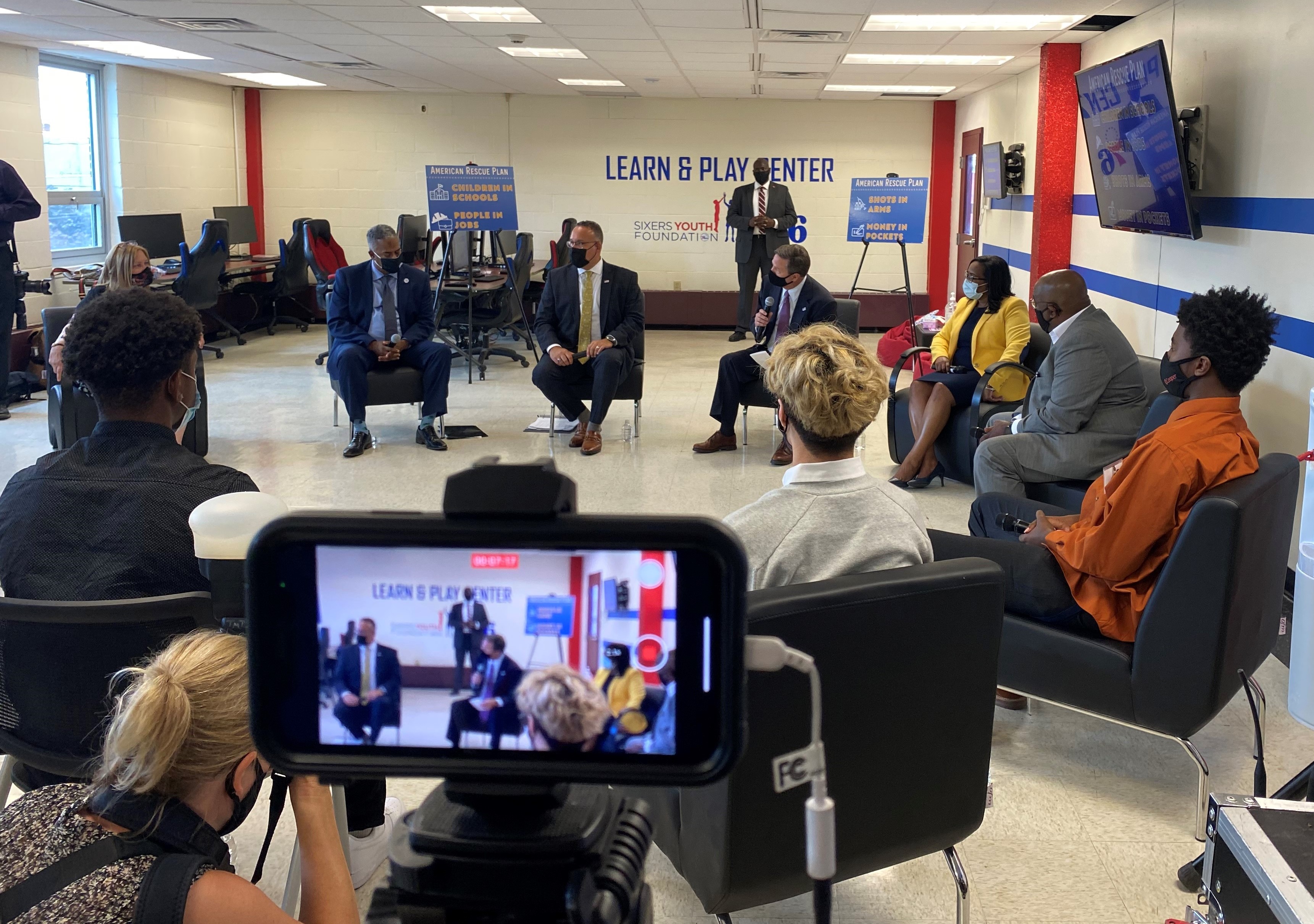 On their last stop, Secretary Cardona and Congressman Norcross visited North Camden Community Center where they spoke with students and local leaders about school reopening and ways the American Rescue Plan funding can support efforts to re-engage students. During their visit, they were joined by Camden City Mayor Carstarphen, Superintendent of Camden City Katrina McCombs, Senator Cruz-Perez, Camden County Commissioner Jon Young and local students.
"Camden is a great example of what can go right when everyone works together," said Congressman Norcross. "The pandemic has created unprecedented challenges for schools, but Camden's positive momentum remains uninterrupted, thanks to the leadership and resources from the American Rescue Plan. The city of Camden – and especially its public schools – is resilient and will come out of this crisis ready to continue its progress."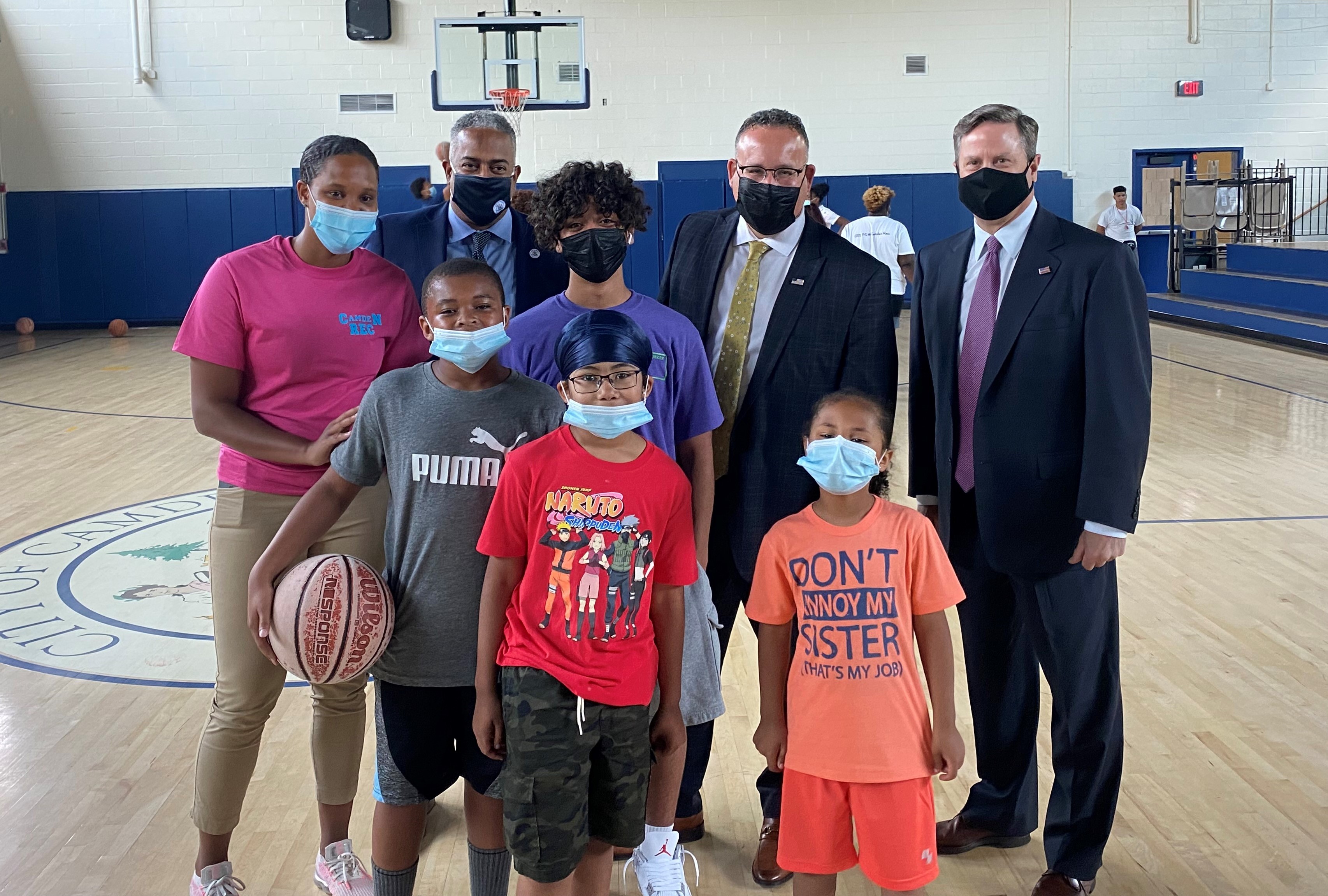 "We are honored to be a part of the U.S. Secretary of Education Miguel Cardona's visit," said Camden City Schools Superintendent Katrina McCombs. "We are grateful to President Biden and his Administration for addressing the devastating impact Covid-19 has caused, in particular its impact on public education. As we prepare to come back into our school buildings, the American Rescue Plan will provide our district with the resources we desperately need to support our students' return as well as provide a sense of normality for our staff and families."
The American Rescue Plan passed the House in March and was quickly signed into law by President Biden, delivering funding to get vaccines into arms, students back in school, money in pockets and people back to work.
The American Families Plan was introduced by the Biden-Harris Administration in April, and if passed would help grow the middle class, and specifically help with the issue of education by creating tuition free community college, increase Pell grants and help close equity gaps.